In 1996, I transitioned from a full-time music career to the corporate business world, where over the past 25+ years I've worked for a range of B2B and B2C companies in SaaS, supply chain, healthcare, media and entertainment, human resources, and retail. I have held senior marketing leadership roles and advisory positions with several world-leading brands including, Sprinklr, UKG, Hellman & Freidman, TraceLink, and Avid Technology. If you're interested in that part of my journey, my LinkedIn profile is probably the better place to browse. :)
My business experience includes tenure at both start-ups and large publicly traded companies, where I have led organizations through aggressive business transformation, brand reinvention, customer acquisition and retention, organic and M&A growth, and operational consolidation. 
As a musician and composer, I'm able to widen the aptitude of common business skills like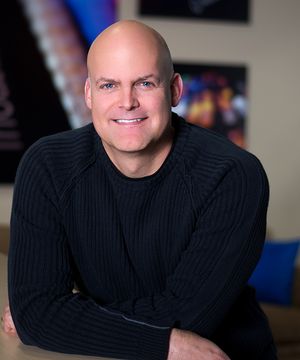 performance, improvisation, creative storytelling, cadence, endurance, precision, discipline and structure. All of these are table stakes for successful business executives, but as key ingredients to any musical composition, recording or production, they form a very distinct foundation that enables me to innovate with authenticity and act with purpose. Alongside my corporate skills, my musical DNA plays an integral role in how I think about business strategy and execution, and then mobilize organizations and teams to capitalize on the opportunities they have in front of them.
None of my business or musical accomplishments would be possible without a wonderful home team that includes my wife of 23 years, Amy, and my three children (and a dog!) - all of whom are the best support system for all of my business and musical endeavors. 
When Music and Corporate Intersect
At different times throughout my career, I've had the opportunity to work on several business initiatives that have also intersected with music. While this type of project is more the exception that the norm, it is always incredibly rewarding for me when these two worlds collide.
The John Lennon Educational Tour Bus